CME BANT ACBN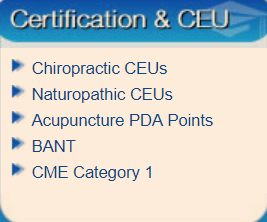 CME
Functional Medicine University has been approved to provide continuing education credits for the following
professions: MDs, DOs, Chiropractors (DCs), NDs, Acupuncturists, Physician Assistants, Nurses, Nurse Practitioners, Dietitians, Pharmacists and Dentists.
For more details go to the following webpage:
BANT – The British Association for Applied Nutrition and Nutritional Therapy
Functional Medicine University have BANT approval for 12 courses.
BANT Approval

FMU is proud and honored to share that 12 FMU courses have been BANT CPD
approved which would offer you the course credibility in the UK. Members look to BANT
certified events when planning their CPD activity. The British Association for Applied 
Nutrition and Nutritional Therapy (BANT) is the professional body for Registered
Nutritional Therapists.
ACBN – American Clinical Board of Nutrition
Functional Medicine University is an approved premier provider for 300 hours leading to the diplomate in clinical nutrition.
To achieve your certification in Functional Medicine you ONLY need to complete 200 hours with FMU.
We have added an additional 100 hours at NO CHARGE which can be applied toward obtaining your diplomate in nutrition.
The American Clinical Board of Nutrition (ACBN) is a certifying agency in
nutrition. The ACBN is accredited by the National Commission for Certifying
Agencies (NCCA). The ACBN is one of only a very few certifying agencies
in nutrition to offer Diplomate status to all professionals in the health care field,
beyond the doctorate level in the United States and Internationally. Certificants of
the ACBN hold the distinction of Diplomate, American Clinical Board of Nutriti on
(DACBN)
If you've further questions for FMU on continuing education then here is their phone and email.
*Remember to claim your $250 discount you must use my voucher. Contact me if you need any help with that: contact@functionalmedicinetraining.org
Mary