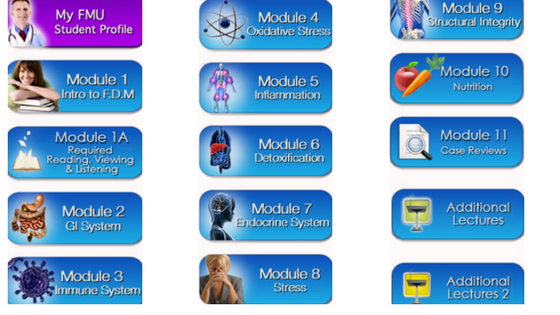 Core Functional Medicine Syllabus:
Below is a glimpse of the syllabus for modules one to five, remember you can take the program for a test drive yourself if you sign up during enrollment week, last enrollment was Fall Enrollment Oct 21st 2019 running for one week, next enrollment is Winter Enrollment in 3 months time, so that's seasonal 4 enrollments per year. And you'll have 30 days to decide if this is for you as there's a 30 day money back guarantee.
Core Modules + Continuous Education
There are 10 modules in the core CFMP training, 11 counting case reviews. And there's a number of optional archives such as the guest lecture archive which is continuous education ongoing and free to all past students keeping you up to date with the latest and a variety of approaches in the field.
F.D.M. Module #1 (5.0+)
An Introduction to Functional Diagnostic Medicine
FDMT 501A: An Introduction to Functional Diagnostic Medicine
Your first training lesson will provide a clear overview of functional diagnostic medicine. This lesson will show you the enormous potential of FDM . . . .
FDMT 501B: The Functional Medicine Thinking Mechanism
Your second training lesson will provide a clear overview of the Functional Medicine thinking mechanism.
FDMT 501C: Implementing an FDM Program Into Your Clinic
Your third lesson will show you a system to successfully implement FDM into your clinic. Experience in the business world has shown that businesses utilizing a "systems approach" are far more likely to be successful than those that don't. Over the course of this training we will be showing you ways to work on your business rather than in your business. The first steps in this process are covered in this lesson.
FDMT 501D: The Business of Running an FDM Office
In this lesson we want to introduce you to Debbie Grisanti. She is Dr. Grisanti's wife and has been running his busy neuromuscular and FDM practice for many years. She has a wealth of knowledge to share with us about the ins and outs of running a successful FDM practice from the perspective of the front office.
FDMT 501E: The New Patient Health History
This lesson shows you how to use the F.D.M. Intake Form, which represents the data gathering tool you will be using to gather important information from your patients prior to their first appointment.
FDMT 503A: Blood Chemistry & CBC Analysis
This lesson will teach you where to begin with blood laboratory testing; from understanding why labs should be ordered to the various panels and their reference ranges, this lesson is essential to diagnosis.
FDMT 505A: Intro to Advanced FDM Testing
This lesson introduces you to the concept of Advanced FDM Testing and shows you the different lab companies we will be working with throughout the training program.
 FDMT 505B: The Initial Report, the Summary of Findings Report, and the Progress Questionnaire
This lesson will show you templates for creating the initial report you create for your patients prior to their first visit, the report you write after the labs come in and the progress questionnaire, a great tool to use between office visits.
ok, that's the boring one out of the way with all the paperwork, how to set up the office flow etc., now onto the fun part :)
F.D.M. Module #2 (5.0+)
The Gastrointestinal System: Digestion, Absorption and Mucosal Integrity
Core training GI system:
FDMT 511D: Physiology of the Gut Associated Lymphoid Tissue, Enteric Nervous System and Mucosal Barrier


In this lesson you will gain an understanding of the Gut Associated lymphatic Tissue (GALT) system, learn the significance of the Enteric nervous System (ENS), and discover the importance of the Mucosal Barrier.

FDMT 515A: Advanced FDM Testing – Interpretation and Treatment: Stool analysis. This lesson walks you through all of the elements found on a Comprehensive Digestive Stool Analysis test. The Insider's Guide is the main reference material for this lesson. Please download it and use it when interpreting your stool analysis tests.

FDMT 515B: Advanced FDM Testing – Interpretation and Treatment: Stool pathogens – Bacteria, Parasites and Yeast This lesson will provide an explanation of dysbiosis with special emphasis on common parasitic, bacterial and fungal pathogens. It will conclude with the most common functional diagnostic medicine testing to identify microbial pathogens and treatment.

FDMT 515C: Advanced FDM Testing – Interpretation and Treatment of the Intestinal Permeability Test: This lesson will provide an explanation of intestinal hyperpermeability. It will conclude with the most common functional diagnostic medicine testing to identify malabsorption and intestinal hyperpermeability and treatment.

FDMT 515D: Advanced FDM Testing – Interpretation and Treatment of the GI Portion of the Organic Acid Test. This lesson will provide an explanation of the Organic Acid Test with a focus on the GI portion of the test. It will cover interpretation and treatment.

FDMT 515E: Advanced FDM Testing – Interpretation and Treatment Intestinal Barrier Function Test: This lesson will provide an explanation of the Intestinal Barrier Function Test and focus on interpretation of results and treatment.
practical application of functional medicine: gi system
The Triad of Gut Destruction


The gut is the major interface to the outside world. It is our first line of defense as well as where our first exposure happens. It is where we decide if we are immune tolerant of the world or inflamed by the world. Recent research by Dr. Fasano demonstrates that the inflammatory contribution from the gut results in a host of systemic conditions, from neurologic to auto-immune but even contributing to diabetes and some cancers. He also affirms that movement away .

The Gut-Brain Connection: Exploring the Vital Role of the Gut in Optimal Brain Function


The role of gastrointestinal health in brain health is not new. Alterations to the microbiome are now known to create physiologic adaptations responsible for changes in mood, behavior and neural plasticity. In this webinar you will learn about those physiological responses, what causes them, and how to fix it.

Autoimmunity and the Gut: A detailed examination of various triggers to immune system dysfunction and the development of autoimmunity


The rapid rise in gastrointestinal and immune dysfunction in our patients presents an increasingly complex clinical dilemma. This lecture will provide cutting edge discussion regarding common triggers to autoimmunity, such as microbial infections, intestinal permeability, environmental toxins, and stress.
Clostridia Species as a Major Factor in Mental and Gastrointestinal Health


Several species of gastrointestinal Clostridia bacteria have been implicated in a variety of mental illnesses. HPHPA, a phenolic biochemical and metabolite of specific species of Clostridia, and 4-Cresol, a similar phenolic biochemical, produced mainly by the Clostridia species C. difficile, have been found elevated in many disorders, including depression and autism. The metabolic pathway for production of human neurotransmitters is shown to be inhibited by these Clostridia metabolites and the elevated dopamine caused by this inhibition is neurotoxic. Toxin-producing strains of C. difficile, (the most common nosocomial infection and cause of death in the United States) can cause illnesses ranging from mild or moderate diarrhea to ulcerative colitis, toxic dilatation of the colon (megacolon), and sepsis. Testing methods for these Clostridia species and their metabolites will be compared and possible treatments will be presented.

Small Intestine Bacterial Overgrowth (SIBO) (Part 1)


SIBO is a core condition underlying irritable bowel syndrome and an associated condition of many common diseases including Crohn's, Parkinson, rosacea, restless leg syndrome, chronic fatigue and interstitial cystitis. Understanding the underlying causes for SIBO, its diagnosis as well as the dietary, herbal and pharmaceutical treatments for this common imbalance will allow the practitioner to successfully treat many patients whose chronic suffering is otherwise a mystery to the healthcare system .
Advanced Stool Diagnostics: GI Effects and the Evolution of Gut Health Assessment


As a clinical approach for patients, supporting optimal functional capacity begins before the onset of disease. The human gastrointestinal system plays a key role in this optimal functioning capacity via its core physiologic functions which can be broken down by digestion & absorption (D); impacts on immunity, inflammation, and infectious agents (I); and gastrointestinal microbiota activity (G), or DIG.

Small Intestine Bacterial Overgrowth (SIBO) (Part 2)

The Causes and Diverse Clinical Presentations of Gluten Related Disorders

Gluten Certification,Dr. Peter Osborne. This lecture is designed to give health care providers the necessary tools and clinical pearls to recognize the many faces of gluten sensitivity. You will learn the difference between celiac disease and gluten sensitivity and the difference between a traditional gluten free diet vs. a TRUE gluten free diet. [Please note that the course includes Peter Osborne and Tom O'Bryan's views on gluten but also includes speakers with different views]
Small Intestine Bacterial Overgrowth (SIBO) (Part 3)
Discussion will include standard SIBO treatments of antibiotics, herbal antibiotics, elemental diet, diet and prokinetics as well as probiotics, clinical pearls and Q & A.
Functional Approach to GERD Diagnosis and Treatment

---
So you have the core functional medicine training modules along with expanded subjects given by many experts in the field. Some of the speakers you may recognize and some of them you may not. Dr. Ron Grisanti has found rare experts from all parts of the globe. A variety of opinion and clinical practice is expressed among these experts. And whereas some guest speakers are on the online health summit circuit many more are not, and those who take part in the summits bring a higher standard aimed at professionals in this training arena than the talks aimed at the general public in the free online summits.
There is the opportunity to ask questions of the guest speakers both during the lectures when they first air live and again in the FMU forums. Many of the speakers belong to the FMU Board of Advisors.
*You can view the list of upcoming lectures from guest speakers on my What's New at FMU page.
---
F.D.M. Module #3 (5.0+)
The Immune System
core Functional medicine training: immune system
FDMT 525A: Advanced FDM Testing – Interpretation and treatment of food allergy/sensitivity/intolerance testing, Ronald Grisanti D.C., D.A.B.C.O., D.A.C.B.N., MS  This lesson will cover food allergy and food intolerance testing. It will discuss the various testing methodologies and give you a thorough grounding in allergy and intolerance testing.
Advanced FDM Testing – Secretory IgA testing This lesson will cover the important topic of secretory IgA testing and its relation to a wide number of dysfunctions.
Advanced FDM Testing – Interpretation and treatment: Viral screening This lesson will cover the interpretation and treatment of viral screening.
application of functional medicine to cancer, autoimmunity, psychoneuroimmunology & Chronic illness:
Breast Cancer: Integrative Management Strategies


The majority of women diagnosed with breast cancer utilize dietary supplements and other natural therapies throughout the continuum of their care. The case management provided by the integrative and natural healthcare practitioner is of critical importance to the survival and well-being of the patient. This presentation will outline the guideposts of this management. Specific discussion will include the use of biomarkers and hormonal analysis to establish the extent of disease as well as to identify contributory components of the bodily terrain. This webinar will highlight evidence-based nutritional and herbal therapies used in the prevention and management of breast cancer.

Uncover the Splinters in Autoimmunity


Autoimmunity is spiraling out of control. It has reached epidemic proportions worldwide. The American Autoimmune Related Diseases Association (AARDA) estimates that over 50 million people suffer with an autoimmune condition in the U.S. alone. Experts in the field suggest the actual numbers of people suffering are much higher. Until now, modern medicine has had few answers for people who suffer with autoimmunity. Conventional medicine treats these complex disorders as incurable genetic diseases requiring a lifetime of hormones, anti-inflammatory and immunosuppressive medications. Fortunately a new paradigm is emerging. An increasing number of integrative and functional medical practitioners are successfully helping patients reverse the autoimmune process.
Functional Tests for Immune Tolerance: LRA by ELISA/ACT


It all starts with the immune system which includes two parts: innate, intrinsinc and adaptive, acquired. We will explain these vital segments and give an overview of how the immune system works in a healthy person. Immune system preoccupied with defense and unable to repair, renew and restore. Inflammation, aptly termed "repair deficit" can be acute or chronic and a well-recognized cause/amplifier of chronic, degenerative and autoimmune conditions. When defense takes precedence over repair in the immune system, increased intestinal permeability in turn intensifies the defense work in the immune system; setting the stage for host hospitality to chronic infection and/or autoimmune, self-attacking chronic degenerative illness.

Food Immune Reactivity and Autoimmunity


According to the American Autoimmune Related Disease Association, about 53 million Americans have autoimmune disease. Autoimmunity is thought to result from interaction between genetics and environmental triggers. Studies show that autoimmune cases linked to genetic susceptibility are in the minority, which indicates that the initiation of autoimmune diseases can be impacted by environmental factors such as toxic chemicals, infections, and dietary components.
Becoming Immune to Cancer: Winning with Integrative Solutions for Prevention and Survival


There may be as many forms and types of cancer as there are individual people…and for this reason, our one-size-fits-all conventional medical approach leaves ample room for improvement. Immunity, Hormonal Status, Adrenal Resilience, Liver Function, GI function and Sleep quality all play a critical role in staying fit when it comes to battling the cancer cells our bodies routinely produce. This presentation will offer an understanding of the interplay between our many endocrine and metabolic systems.
Shifting the Paradigm of Depression: Psychoneuroimmunology


We are at a cross-roads in the natural history of psychiatry. The monoamine hypothesis and associated treatments have revealed their limitations, and it is time to explore what the literature has been supporting for two decades: the inflammatory model of mental illness.
Cancer Survivorship


This presentation will review the fundamentals for supporting key pathways involved in addressing after-effects of conventional cancer treatment, reducing risk of recurrence and creating optimal wellness for cancer survivors. We will review both lifestyle and key supplemental nutrient indications and contraindications that are important in the management of cancer survivors.
Creating Health – The Most Effective Treatment for Chronic Disease


This talk will review Dr. Wahls' story of developing multiple sclerosis which transitioned to secondary progressive multiple sclerosis and the development of severe disability, becoming dependent upon a tilt recline wheel chair. It will include a discussion of the field of epigenetics, that is how environmental factors can influence when genes are active and which ones are silent without changing the actual DNA sequence. Dr. Wahls then reviews how she created a diet and lifestyle program to create favorable epigenetic changes and restore her health to the point she can now bike 5 miles to work. She will also review her clinical trials using diet and lifestyle to treat progressive multiple sclerosis.
——
F.D.M. Module #4 (5.0+)
Blood Sugar Regulation, Oxidative Stress & Neurotransmitters
core training oxidative stress:
Advanced FDM Testing – Interpretation and treatment of Organic Acid Panel — Energy and Oxidative Markers, Ronald Grisanti D.C.,D.A.B.C.O., D.A.C.B.N, MS This lesson discusses the advanced FDM testing methods for using the Organic Acids panel to identifying energy and oxidative stress issue.
Application of functional medicine to oxidative stress
Insulin Resistance: Causes, Consequences and Solutions


Insulin resistance is potentially the biggest healthcare concern in the developed world because it is linked to multiple chronic uncurable degenerative diseases. This presentation will review the the causes, the consequences and solutions for this modern global problem.
Understanding Methylation: The Roadmap to Wellness "How the Perfect Storm of Methylation Defects, Oxidative Stress and Inflammation Predisposes You to Chronic Medical & Psychiatric Disorders"


Many immunological, hormonal, structural, energetic, metabolic, nutritional, toxicological infectious and genetic stressors conspire to exacerbate fight/flight, degenerative, sympathetic dysautonomia, the root cause of chronic medical and psychiatric disorders.
MTHFR and Genetic Testing


Mitochondrial medicine is an emerging field that studies and teaches how to best utilize targeted mitochondrial nutrients to improve the health and energy production of the mitochondria, thereby strengthening immune, hepatic and nervous system functioning. Evidence based data will be presented to support this hypothesis.
Neurotransmitter Primer


It is called the Neurotransmitter Primer and it discusses what neurotransmitters are and what they do, treatment strategies in a general way, how to test, and then Dr. Ferris will talk about each neurotransmitter that is currently tested by Labrix, discussing what imbalances look like and how to treat them.
Inflammation and Oxidative Stress; Major Players in Clinical Conditions

A Clinician's Guide to Mitochondrial Medicine


Mitochondrial medicine is an emerging field that studies and teaches how to best utilize targeted mitochondrial nutrients to improve the health and energy production of the mitochondria, thereby strengthening immune, hepatic and nervous system functioning. Evidence based data will be presented to support this hypothesis.
Demystifying chronic illness: Allostatic load as a unified model of chronic illness


In this inaugural installment of my Research Update series, I will first discuss papers which make it clear that incidence of chronic illness that involves what is known as "multimorbidity," or chronic illness that encompasses several different signs, symptoms, and/or diseases, is increasing at an incredibly fast rate. 
Diabetes: Blood Sugar Blues


 ——–
FM Module #5 (5.0+)
Inflammation, The Cardiovascular System and Autoimmunity
core training: inflammation
Cardiovascular Disease (3 Cases)


This special topic will cover the FDM approach to cardiovascular disease and hypertension. 3 different cases of hypertension with 3 different underlying causes are presented. In this video we will walk you through step by step the FDM testing methodology we used to go from clinical presentation of hypertension to functional assessment and treatment.

The FDM Approach to Autoimmune Disease (Rheumatoid Arthritis)


This lesson discusses the FDM approach to autoimmune diseases and conditions with special emphasis on rheumatoid arthritis.
practical application: inflammation
Depression: "Probably Not What You Think It Is"


Depression is generally recognized as a collage of symptoms which include feelings of helplessness and hopelessness, loss of interest in daily activities, appetite or weight changes, sleep problems, anger and irritability, loss of energy and fatigue, self-loathing, and reckless behavior.
Osteoporosis: Etiology, Diagnosis, and the Use of Biomarkers to Design Therapeutic Protocol


This webinar will cover the basics of bone biology, the causes of bone loss, and the diagnosis and treatment of osteoporosis. This common metabolic bone disease is a major public health issue. Osteoporosis can be devastating to the individual and places a staggering financial burden on the healthcare system.
Hypertension- Finding the cause and the natural cure


Learn how to diagnose and treat hypertension from a board certified cardiologist focused on a natural holistic approach

 The Irregular Heart Beat: The Cause and the Cure
How many times have we heard patients complain of heart pounding or skipping? Obviously as a cardiologist, I hear the complaint often. I want to teach you what the differential diagnosis is and how to get rid of them. You will learn the questions to ask to determine whether or not to refer out. But the reality is that the vast majority of the time, this is something most providers can handle on their own. I will discuss evidence based supplements, the necessary tests, and the role of chiropractic care.
New Perspectives on Clinical Exercise (What Works)
Special Topic: This special course is presented by Rick Bramos who brings his 30 years of practical experience in the fitness arena to FMU.
Migraines: The Heart of the Matter


What is a migraine? Endothelium 101 and nutrition and lifestyle factors in people with migraine.
Unraveling Migraines: The Functional Medicine Approach


In this lecture, Dr. Yousef Elyaman will take a look at the root cause of migraines. From there will develop a functional medicine treatment approach. You are not going to want to miss this information packed webinar where we will be Unraveling Migraines.
Quantifying the Anti-inflammatory Diet: A nutrient-based model


There is wide-spread agreement that an anti-inflammatory diet has the potential to reduce disease risk, relieve suffering, and improve health–but little consensus on what an anti-inflammatory diet looks like. Some approaches focus on glycemic impact, others on antioxidant capacity, still others on fatty acid profile–leading to confusion.Does the glycemic impact of sweet potatoes cancel out their antioxidant benefit? Does the saturated fat in beef outweigh its high omega-3:omega-6 ratio? Practitioners and patients alike can benefit from a systematic, integrative, and evidence-based approach to evaluating the inflammatory and anti-inflammatory potential of foods and dietary patterns.
Alzheimer's disease: The Aging Brain

—————
Module 6 – Detoxification and the Liver
Module 7 – NeuroEndocrine Regulation: The Adrenals, The Thyroid and Sex Hormone Regulation
Understanding the physiology of the hypothalamic-pituitary-adrenal-thyroid-sex hormone axis: We will focus attention on individual hormonal systems giving particular attention to adrenal, thyroid, male and female sex hormone regulation. We'll look at the many ways these systems become dysfunctional and examine the impact this has on human physiology.
Module 8 – Psychological, Emotional and Spiritual Balance
In this module we will explore the role psychological, emotional and spiritual balance play in health and wellness. We will explore the functional approach to helping your patients manage stress.
Module 9 – Structural Integrity
In this module you will learn a proven system of structural and myofascial rehabilitation that will take your clinical management to the next level.
*I will elaborate on the further modules soon, including:
Module 10 Nutrition
Module 11 Case Reviews
---
Next Enrollment Winter 2020
Remember enrollment is quarterly and recent enrollment just past was Fall, October 21st for one week. At that time there are two free lectures to view. So you can either advance book a seat or sign up during enrollment week where can you take a look at the materials. You've 30 days to decide if this course is for you, and if it isn't then ask for your money back. If you stay and have signed up through the $250 voucher link on this website then you'll get $250 cashback on tuition fees at the end of your payment cycle but remember to use the voucher from this site before paying.
I took the course for educational purposes, not for the accreditation, and I used the payment plan which is very affordable at around $200 per month. It is the best explanation of things you can get out there no matter what sort of practitioner you are, you can use this information to apply more accurately what you are already doing.  I've also had the opportunity to ask some very high level experts some of my burning questions.
Meanwhile if you have any questions about the training you can contact Functional Medicine University at either their phone number below or their support helpdesk.

And if you have any questions for me either as a student there or relating to the $250 cashback I'm offering through this site, then contact my website email: contact@functionalmedicinetraining.org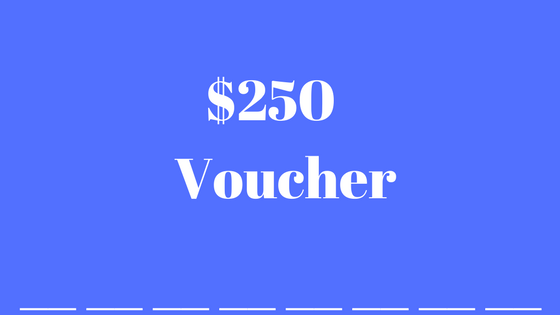 Mary.