FMU Winter Enrollment is open from Mon Jan 21st through one week till the 28th.
There is an exclusive $250 cashback on tuition fees through this site, functionalmedicinetraining.org
FMU is a Complete Training Center for Functional Medicine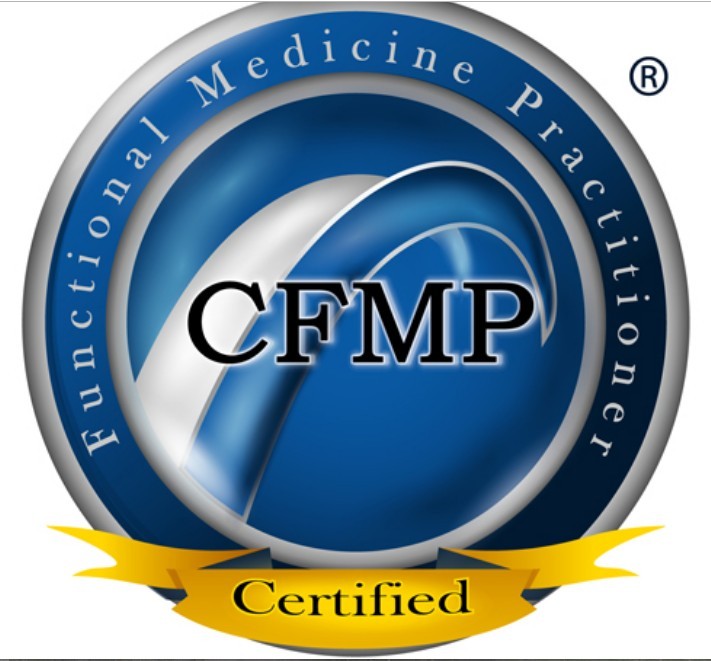 1. Core CFMP Curriculum
You can check out the core CFMP syllabus here, and remember you can also trial the course for 30 days to see if it is suitable for you, no fuss refunds available up to 30 days.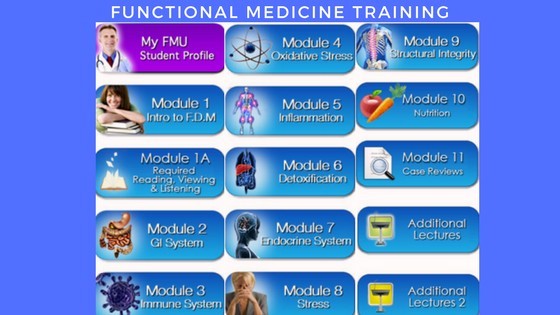 ---
2. Interactive Forum – For Students & Graduates
Ask questions on the training, ask clinical questions, access experts via the forum and often personally and at no extra cost – there is no future membership fee with either the forum or the continuing education.
Examples of recent questions being asked in the members' forum as of January 21st 2019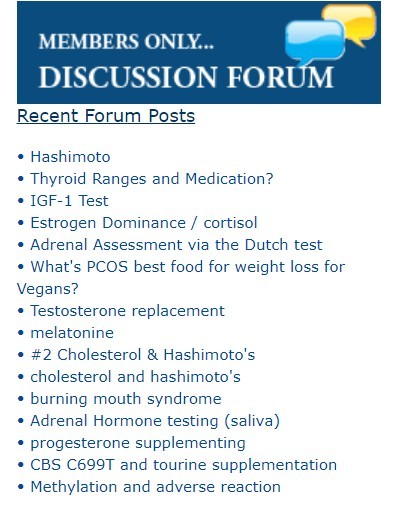 ---
3. Continuing Education – CMEs, BANT, DACBN
Approved Continuing Education Provider. Functional Medicine University is an approved Continuing Education Provider in most states throughout the US and is accepted for continuing education in various provinces and areas abroad. FMU continually works to obtain continuing education approval throughout the US for a wide range of health care entities including MDs, DCs, DOs, NDs, Acupuncturists, Physician Assistants, Nurse Practitioners, Nurses, Dietitians, Pharmacists and Dentists 

Read More on continuing education here which includes:
CEUs and certification provided by Southern California University of Health Sciences
CME category 1, BANT approval, ACBN
As a student of Functional Medicine University, you now have the opportunity to not only obtain your certification
in Functional Medicine but can now transfer 300 hours toward getting your Diplomate in Clinical Nutrition.
---
4. Guest Lecture Series
Guest lectures are an important part of the continuing education, read more about the Functional Medicine University Guest Lecture Series here and check out the upcoming lecture list schedule already in place for 2019. All lectures are archived for students to download in video, audio, transcript and powerpoint slide form. They are also optional for students, you don't need to attend the extra modules outside the core training, but extra tools and modalities are presented along with it as well as keeping up to date.
Sample Guest Lectures for Winter Enrollment 2019
There are two sample guest lectures free to view this week for you to get a glimpse of the ongoing education that is in addition to the core curriculum of the fully accredited CFMP Certified Functional Medicine Training.
The Opioid Crisis
First up is the Opioid Crisis by Dr Cindy Howard. In this lecture she describes the current crisis which sees up to 30% of people who are prescribed opioids going on to abuse them and the percentages that then progress to other disorders, heroin use, and overdoses and most importantly:
Different ways to deal with issues outside of prescribing opioids
As well as ways to get people off opiods
She outlines two case studies from her own practice, a tough one and an easy one.
Tough Case History | Long Term Opioid Use in Elderly Patient with Hip Surgery
The tough one is a woman in her 70s who has been on opioids for 20 years already and not doing well on them, not doing well after hip surgery…yet slowly they are making progress together particularly after Dr Howard has checked her stress profile to see where the drugs have depleted her most as an area of priority to work on, though she works a lot on nutrition and other aspects too.
Easy Case Resolution | Non-Opioid Injury Resolution for Athlete
The second case which got a fast resolution was actually one of the many athletes she works with – a youngish woman injured and prescribed opioids by her primary care physician but who herself did not want to go down that route and sought out Dr Howard – who without opioids but instead looking at inflammation markers and nutritional deficiencies as well as other body such as chiropractic and accupuncture was able to get that athlete back to doing 3 triathlons very successfully in the next season as if there had never been any injury. THAT after being prescribed opioids and when athletes are among the population most affected by opioid use is a really good example of positive alternatives within functional medicine.
These lectures are free to the public for one week in video format only, as a student you get the transcripts and slides and opportunities to ask Dr Howard any questions. But remember to come back and use this voucher for your $250 cashback on enrollment tuition fees.
Sample video 1: The Opioid Crisis by Dr. Cindy Howard
Remember to return to this site for the cashback voucher prior to enrollment
---
Sleep Matters | The Missing Link in Functional Medicine, by Dr. Robert Silverman
Sample Video 2 is Sleep Matters by Dr Robert SIlverman
Dr Silverman has recently presented a number of lectures on the brain, along with Mary Kay Ross of the Bredesen Protocol and Michael Jurgelewicz of Designs for Health and there are differences of opinion and approach in all of these speakers which is the mark of a full and true education, for example Dr. Jurgelewicz goes beyond keto knowing it is not for everyone, Dr Ross is fond of keto, and Dr. Silverman uses it only in some patients.
In his Sleep Matters lecture Dr Silverman shows how sleep is the missing link in functional medicine and gives some excellent advice on mattresses which I had not heard elsewhere, and also the latest research on things such as herbs like Lemon Balm, Hops, Passionflower, Skullcap outperforming drugs for sleep and GABA upregulation.
Dr Silverman is also very generous in outlining the precise supplements he uses in his protocols for leaky gut and gut-brain connection.
See my review on Dr Silverman's Sleep Matters guest lecture here, special note on Bredesen's 'Recode'.
These sample lectures are available for one week only, be sure to catch them! And afterwards before you enroll make sure to come back and click this voucher first so as to get your $250 cashback on tuition fees.