Addiction Summit
August 13, 2018

-

August 19, 2018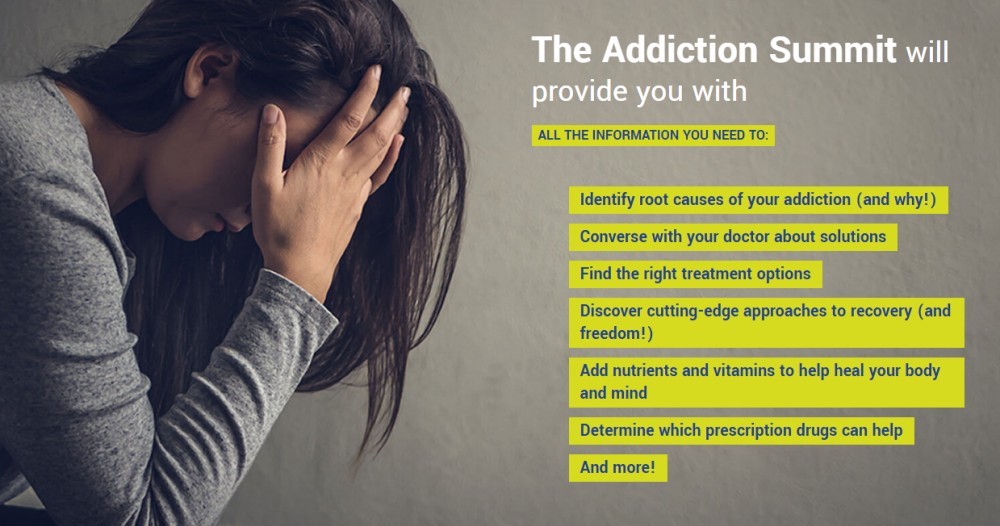 The Addiction Summit kicks off August 13th for one week, with an encore the following w/e. It is hosted by Dr. Paul Thomas, MD. He has used the 12 Step Process himself for his own alcohol addiction and his wife has used another of the speakers Julie Valenti's brain rewiring plan for her addiction post surgery to opiates. Dr. Thomas runs a clinic helping heroin addicts get clean, as well as being a pediatric doctor who featured in the Vaccines series and has written the book The Child Friendly Vaccine Schedule published 2016, and has another book The Addiction Spectrum coming out in Sept 2018.
Free Early Talks
There are 3 talks available to view immediately complete with transcripts, just for registering for the summit [which airs free all week but has packages for sale if you need to catch it later].
They are 3 approaches to recovering from addiction, so will suit different personalities.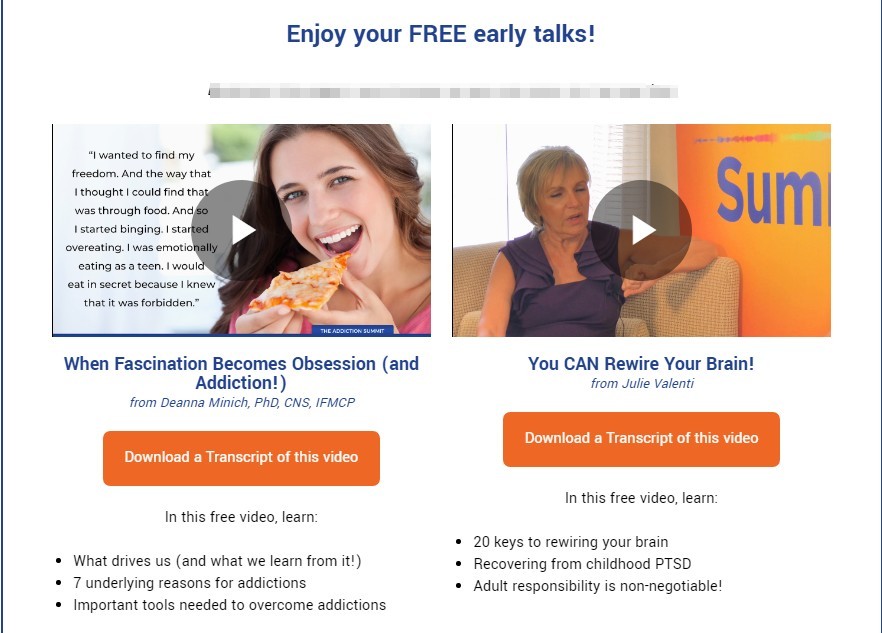 Two recovered addicts praising the 12 Steps programs and both now MDs totally clean.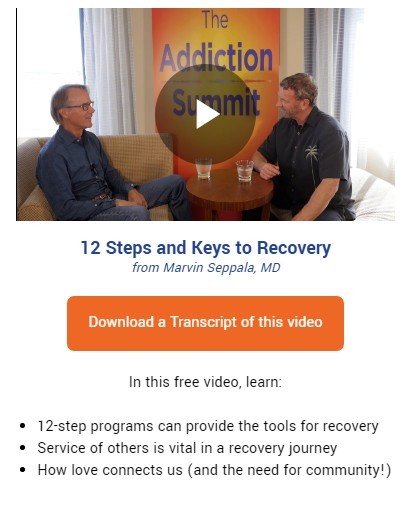 Deanna Minich: Is into a form of color therapy and visualization blend, this will suit some personalities more than others.
Julie Valenti: Is into 'brain rewiring' and the neuroscience, similar to what you'd hear John Assaraf's team talk about though while they talk about the latest scientific research I'm aware the Hypnosis Motivation Institute has been doing this work under the realm of hypotherapy since the 60's, as with many things science can come along much later after the fact, it would be good to give credit where it is due though to the work that already exists. I've taken their Master Hypnotist training and it's the missing link in all of the above approaches!
Marvin Seppalla, over the half way mark this talk gets into methadone and some other substitutes and the difficulties getting finally off, as well as the effectiveness of 12 step programs which are free compared to some online cons charging a fortune for tailored programs and not delivering. Perhaps the biggest takeaway is the inspiration that Doc Marvin himself was a 'hopeless' addict from age 17 but managed to get off and get clean despite the odds and stay clean and turn his life around.
7 Day Recipe Book
There is a 7 day recipe book provided by the host that focuses on whole real food, against the current hype and trends today for keto or paleo or vegan, actually a healthy Irish person going back 5 generations may recognize this type of eating. He also gives the example of the Japanese who are among the healthiest and longest living yet eat 'processed grains' i.e. white rice up to 3 times a day.
You are going to see meat, fish and dairy in here, but note it is not for someone with autoimmune disease, it is to build strength in healthy people in their recovery from addiction and get stable meals in place. There's no junk food in there though.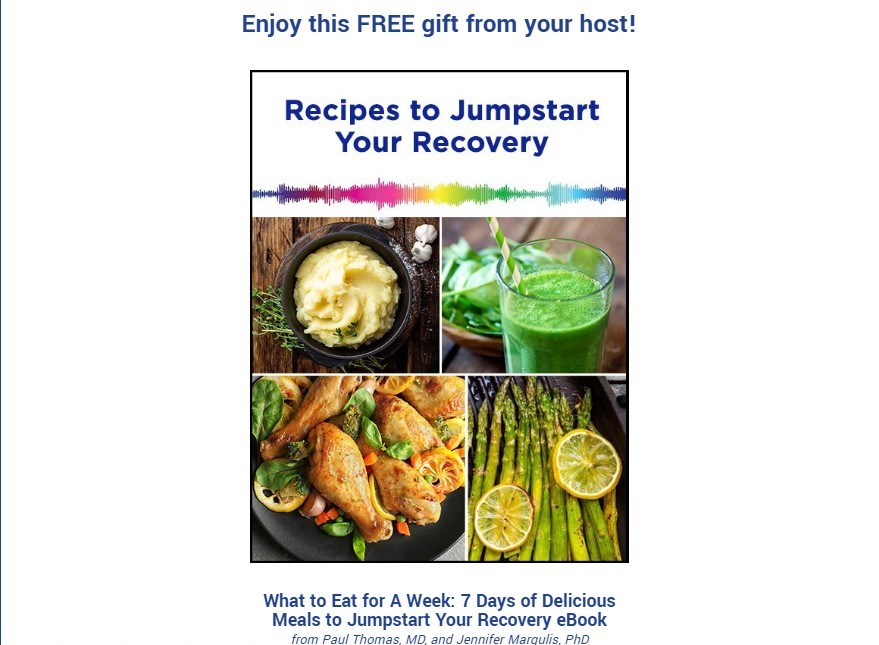 Speaker Bonuses
Four free gifts here too, in exchange for your email address, but remember you can unsubscribe after you download the gifts if you have too many emails in your inbox.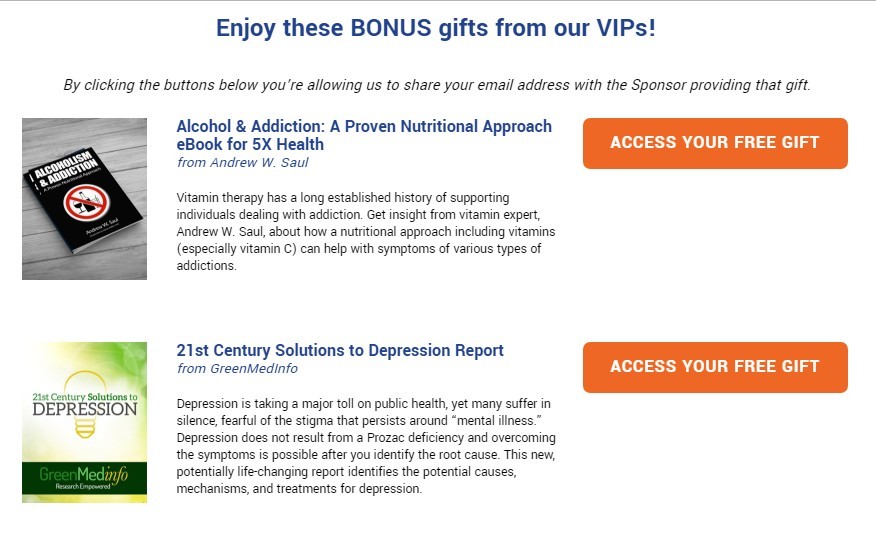 These summits usually have a bunch of other gifts for you when you purchase the event, note you can register as an affiliate and use your own link if you clear your cache prior to purchase.
Alcohol & Addiction: a Proven Nutritional Approach ebook for 5x Health, by Andrew Saul, of Orthomolecular and Vitamin C fame.
21stC Solutions to Depression Report by GreenMedInfo, Sayer-Ji, who has a site dedicated to research and natural solutions – always amazing nuggets with him.
Eliminate Cancer's Favorite Building Block from your Diet, by Ty Bolinger of The Truth About Cancer. Well what a title for a book on guess what – sugar! Really drives that point home already!
Focus on Addiction ebook by David Perlmutter. Well it should be interesting to see Paul Thomas interviewing Perlmutter because they seem polar ends of the grains spectrum already! 😀
Update: As it turns out the 7 Day Eating Plan that he offered as a free gift for attending the summit includes fish and meat and wholefoods as we know them but most of the speakers are keto, which was very unfortunate, as it seems Dr. Thomas is on a learning curve with his own functional medicine education and came under the influence of what's popular online at the moment – bearing in mind that many fmed practitioners tend to meet up at conferences organized by marketing groups or friends who invite other friends of similar dietary beliefs. I spent a lot of time at the summit in the commenst showing that for every one claim made for the ketone BHB betahydroxybutyrate there were often up to 10 other ways of achieving the same thing without engaging an extreme diet like the ketogenic diet.
Daily Speaker Schedule
You can choose your favorite speakers from this line up, I find I have my faves, then I usually pick up a nugget or two from those I thought would be hopeless 😀
However no doubt about it, it's a mixed line up and for those who don't have much time then either get the transcripts or watch out for those speaking at the level you like, for example I usually like the science of Sayer-Ji or Ben Lynch compared to the slow easy conversation of Erin Elizabeth, James Maskell or even Deanna Minich, but when you see the comments under each speaker there's a whole bunch of people would prefer the less detailed talks and different modalities.
Update: As predicted there were some surprises in the lineup:
Having listened to Sayer-Ji his talk was very disappointing and it was more about bashing wheat and grains and he even said he was going 'to take a stand on his belief about wheat', this selectivity and bias was offputting and unfortunate, he's usually better than that.
I've put an update on the functionalmedicinetraining.org facebook page and will do a full report later on the key takeaways and serious points that need challenged at this conference eg keto.
**The best talks to catch are Ben Lynch, Zen Honeycutt, Joel Fuhrmann.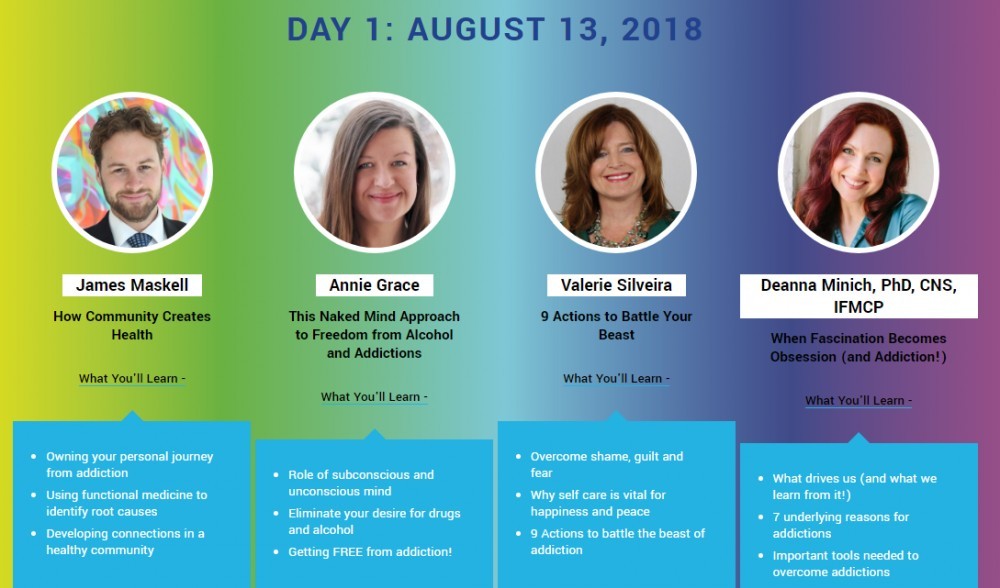 Sayer-Ji is definitely one to watch out for on day 2, if you like detail. Perhaps Perlmutter too, though as we saw from the recipe book this summit is not anti-grain.
*Update: as it turned out Sayer did not bring his A-game to this summit after and if you are time poor then this talk is no priority imo. Perlmutter had some nuggets but is biased and selective on ketogenic diet, he stated things keto was good for but omitted that many other things achieve the same results without the need for an extreme and potentially very dangerous diet.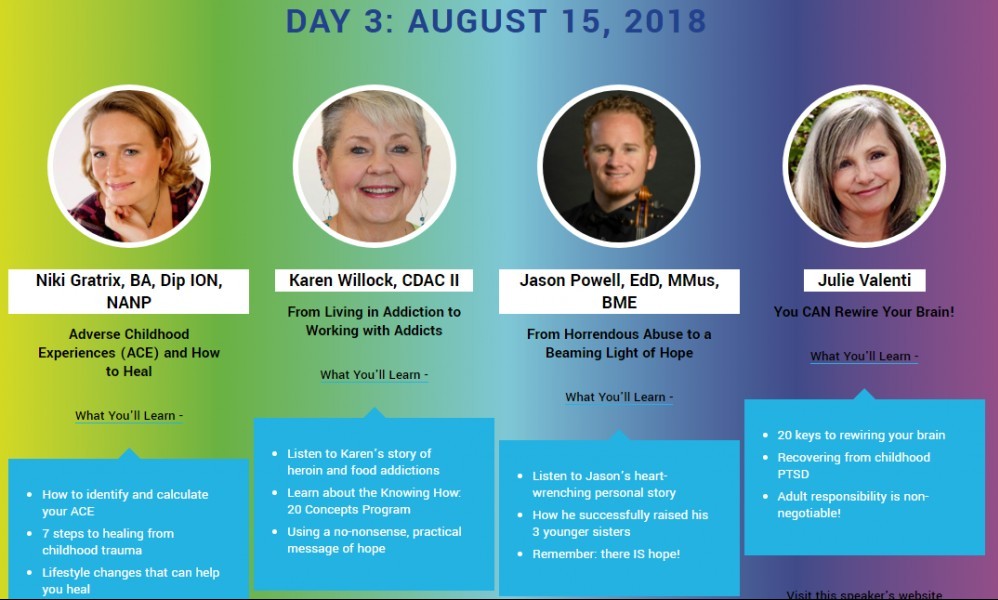 You can see we have a headstart on Day 3 with Julie Valenti's early talk – that is one to get, at the end she flies through her 20 step program, there's a free transcript and she has some very useful stuff could be applied to much needed but mostly non-existent 'anger management' programs.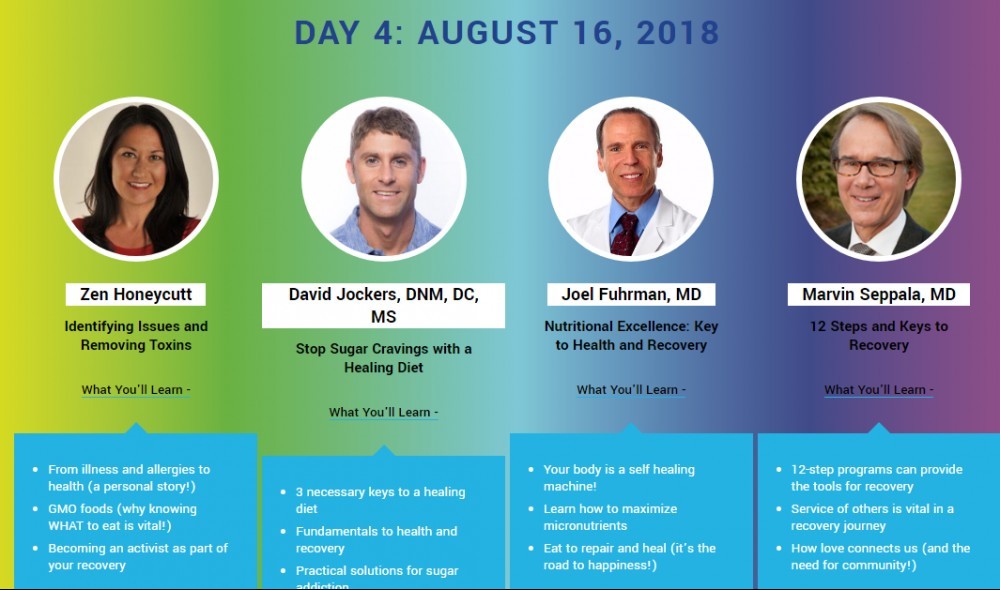 We've also had a headstart on Day 4 as Marvin Seppala's talk is available as a free early talk with transcript. Another interesting speaker would be Joel Fuhrman here, though it's odd to see him side by side with Jockers who is a Keto guy.
**Update: Joel Furhman's talk is one of the best at the summit and explains the mechanics of withdrawal and strengthening the body, his approach is nutrition and not starvation or extreme diets, i.e. the opposite of keto.
Day 5 and here we have Ben Lynch hitting the science – though as you can see from the 'what you'll learn' panel for his talk he is talking liposomal glutathione and that's a big myth out there as regards 'bioavailability', I hope Sayer-Ji brings this point out some time as he is good at dispelling trends and myths, but it is known and reported that upregulating glutathione with something like a coffee enema can be even more effective that a $100 bottle of LSF glutathione!
Ben Lynch is often misquoted regarding methylation supplementation too and I've had it out with him in the comments at these summits at times – he has admitted folate can be got from greens, the problem is some fmed doctors misquote him on that and insist all the time on expensive supplements unnecessarily, he'd say a tiny percentage need more than can be got from food….
**Ben Lynch's talk was one of the best at this summit on many levels, and he did clarify that it is not necessary to supplement with methylfolate, that 'regular folate' was actually greens and we should be eating them over supplementation. But folic acid supplementation is the one not to do.
I'd be interested in the Ray Lozano talk here as to how to speak to people with addictions, and people who need to solve problems do tend to benefit from hearing the success stories of others.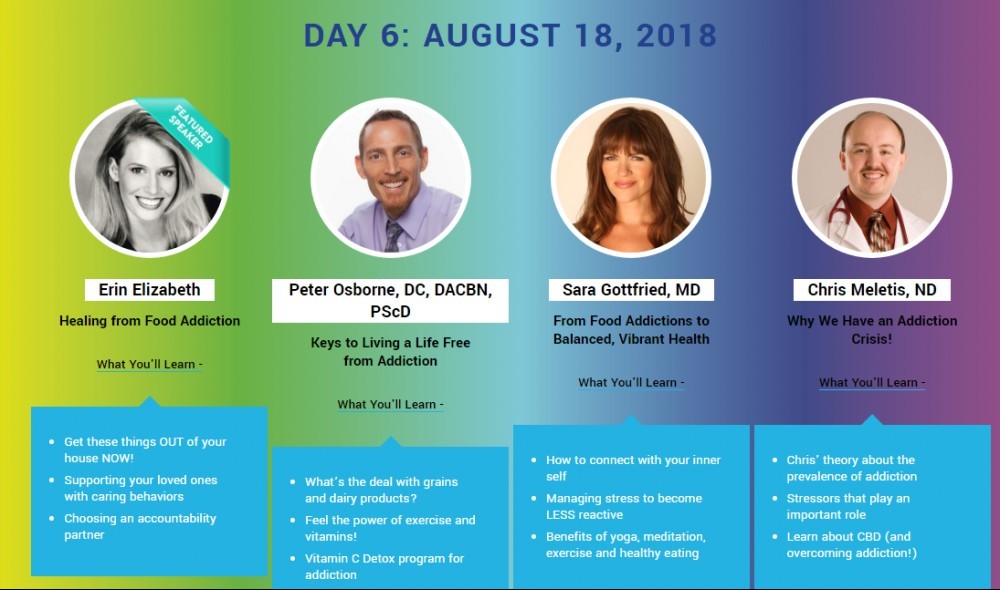 Day 6 Chris Meletis is the one I'd like to hear talk, on CBD in the context of this summit. I've heard Gottfried in the past, she can buck some trends too and point out how not all women do well on paleo or whatever the latest diet fad is.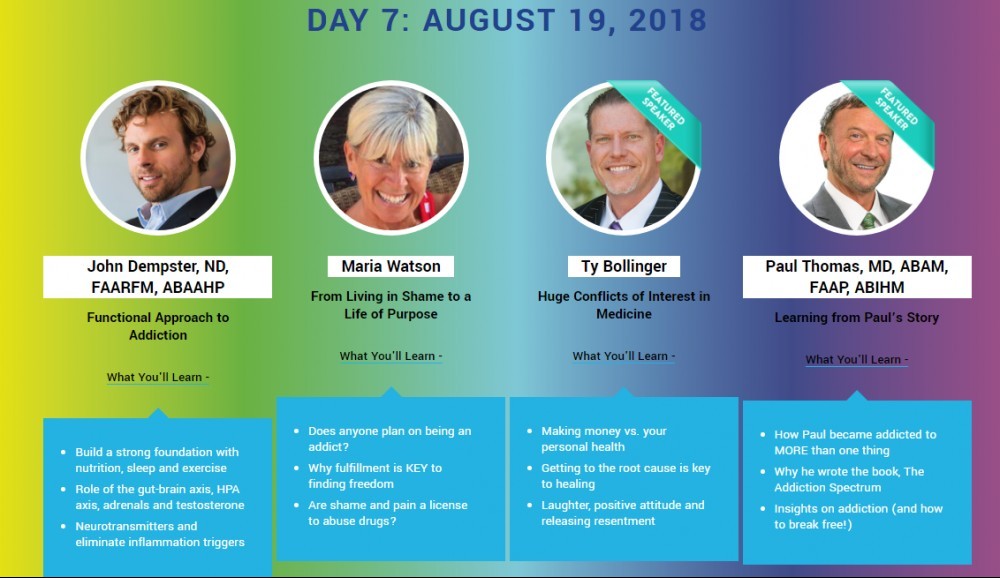 Attend the addiction summit for free
Update: The host got into CBD oil a little with Ty Bollinger, just a snippet here and a snippet in two other talks on the summit, he appears to be saving a discussion on that for his book due out in September 2018. Similarly many requests were made by attendees for more information on what to actually do with addicts in crisis, that did not appear to be covered other than 'they need to see an addictionologist'. His focus was very much on strengthening the body and brain and emotions. Also it emerged he's an integrative doc 10-15 years but not trained in functional medicine so hence the leanings on the guidance of others, eg much too heavy a leaning on keto diet due to his current influences.
If you have opinions on the speakers or their topics feel free to share them in the comments below.
Mary.