Candida Summit
July 9, 2018

-

July 15, 2018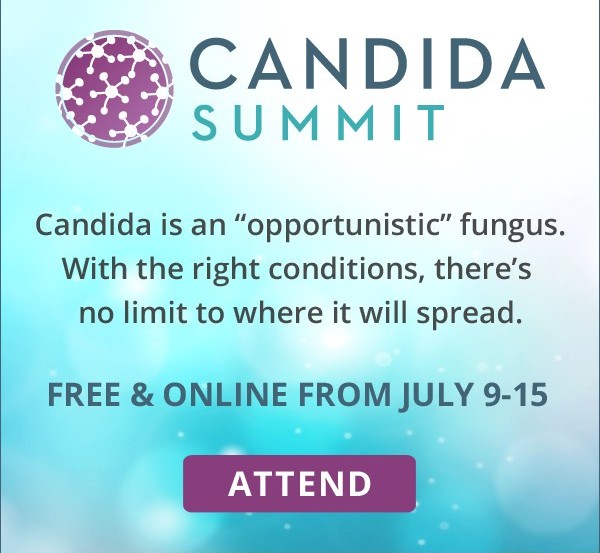 Candida Summit July 9th-15th
Candida was not taken seriously when I became ill in 2004, despite 4 courses of antibiotics without probiotics in a very short time frame all the predictable and well-known-in-the-naturopathic-world symptoms piled up in me. When I started doing coffee enemas I could see 'candida creatures' coimng out just lie I'd heard the 'candida gone rogue' described, the long extensions that cause leaky gut, looked like coral reef but not so pretty!
And the doctors in 2018 do not join the dots yet either, as I have a friend currently going through all this unnecessary debilitating fatigue in the UK after several knee jerk rounds of antibiotics for a wound that actually needed Zinc supplementation to heal as it was depleted by his other meds! Not that his conventional doctors will recommend or acknowledge zinc, even though we got immediate results with it.
And just as I was left to the consequences of 4 courses of antibiotics in a year way back in 2004, when now not only do I know I could have used garlic on those gum infections but no one told me about probiotics or candida or leaky gut associated with all that, and sensitivities etc etc to follow! Nor do they now…
– At least functional medicine is bringing the science back into the picture. ND's had been aware of this a long time and old time naturopaths but their solutions without science and without generating profits for certain professions and companies meant not being taken seriously, until now. Let's hope science / unbiased science/ and sanity prevail this time!
The host for the candida summit is Evan Brand, functional health coach and FDN.
In his health practice, ~95% of Evan Brand's clients have some degree of candida overgrowth – time and time again, he has seen debilitating and mysterious symptoms disappear once it has been addressed.

Certain lifestyle choices and/or illness can deplete the "good" bacteria in your body to create room for candida growth:


Use of antibiotics
A high sugar diet
Allergies
Years of drinking alcohol
An immunosuppressive illness
Use of NSAIDs
Birth control
Evan Brand trained as an FDN practitioner, he cured himself of candida, parasites, bacterial overgrowth by becoming a health coach with a difference. If you are a non-licenced practitioner and you'd like to check out that training click here, Functional Diagnostic Nutrition
If you like to attend the summit or register as an affilate for it then click here Candida Summit