Endometriosis: Causes, Symptoms & Natural Remedies
March 10, 2021 @ 7:00 pm

-

8:30 pm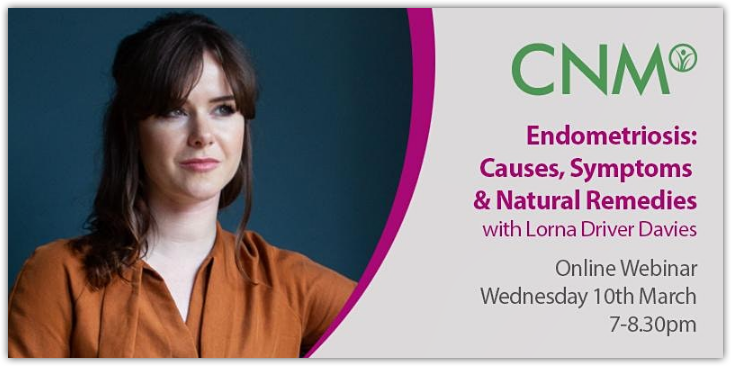 CNM Online Health Talk Wednesday, 10th March 2021 7pm – 8:30pm
Endometriosis: Causes – Symptoms – Natural Remedies
Free to attend with code c235451
About this Event
Endometriosis affects 1 in 10 women in the UK; so the chances are that you have it or you know someone who does (or suspects they do). Lorna has spent over a decade supporting women with Endometriosis, at all life stages – with a particular focus on the condition in her clinical practice. Diet, nutrition, naturopathy and lifestyle can make a huge difference to managing and living with a multi-faceted condition such as Endometriosis – even if you have sought or are seeking conventional support. Lorna will discuss diet, herbal medicine and naturopathic tips and walk you through simple lifestyle tweaks essential when managing the condition.

About the speaker

Lorna Driver-Davies has worked for a decade as a registered Naturopathic Nutritional Therapist, integrating functional medicine with her knowledge of botanicals as a herbal medicine dispenser. Her clinical focus is in women's hormone and gynaecological nutrition, at all life stages, with particular expertise in Endometriosis, with a passion for working with this condition. Lorna regularly lectures and speaks on podcasts on female health, to members of the public, nutrition practitioners and Endometriosis specialist doctors and nurses. This year her work on Endometriosis, hormone balance and thyroid health were featured in an evidence-based, peer-reviewed clinical textbook aimed at natural health practitioners. Lorna is also Head of Nutrition at Wild Nutrition, a supplement company dedicated to providing natural non-synthetic supplements in the most ethical way, with a special focus on women's health and Endometriosis.
Do something life-changing
Improve Your Health
Change Career
Help Others
Come to a CNM Open Event.
Study online. 80% of our graduates are practising.
The College of Naturopathic Medicine is the largest training provider in a range of natural therapies.Embark on a career where you can help people be healthier.