Envirotoxins and Cardiovascular Disease | Dr Jack Wolfson FACC
June 9, 2020 @ 8:00 pm

-

9:00 pm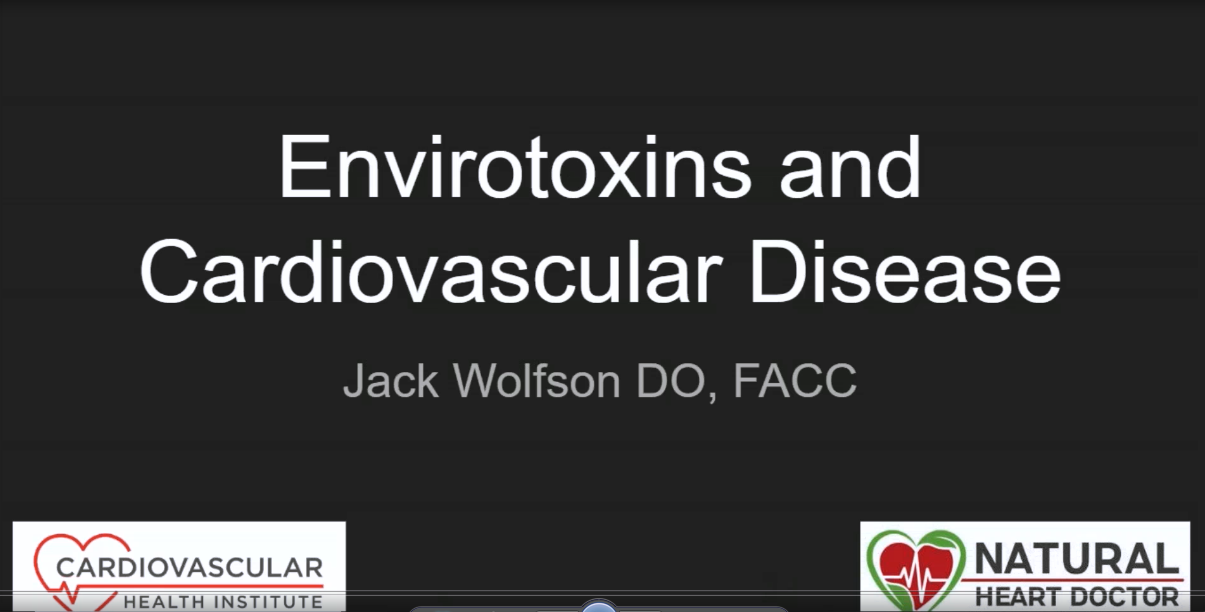 Envirotoxins and Cardiovascular Disease
Speaker: Jack Wolfson D.O., F.A.C.C.
Join cardiologist Dr. Jack Wolfson as he discusses why cardiovascular disease is the #1 killer worldwide and how man-made chemicals impact heart health.
Learning Objectives:
1) The scope of cardiovascular disease (CVD) issues
2) Finding hidden causes of CVD
3) The latest in diagnostic testing for envirotoxins
4) Evidence-based supplements for optimal protection
Date: Tuesday, June 9th, 2020
Time: 8:00 PM – 9:00 PM (Eastern Time-New York Time)
*This lecture is an excellent wake up call and reminder of the hidden and taken for granted toxins in our daily lives that are having huge impact on health and what we can do about them.
 Jack Wolfson D.O., F.A.C.C. Bio:
Jack Wolfson D.O., F.A.C.C. is a board certified cardiologist with more than 12 years as a successful physician in Illinois and Arizona. After numerous years of treating patients, dispensing pharmaceuticals, performing medical procedures, implanting pacemakers and conducting nuclear stress tests, Dr. Wolfson became increasingly frustrated that as a medical doctor, he was not preventing disease but rather only treating symptoms.

His new book, The Paleo Cardiologist, contains critical information on the natural way to a healthy heart by cutting out grain, toxins, sugars, and stress, while increasing healthy fats, organic vegetables, physical activity, and evidence-based supplements. The Paleo Cardiologist is no ordinary diet book. It is the comprehensive guide to ultimate health – not only heart health – but also total body health.

Born 1970 in Cleveland, his father was the first osteopathic resident at the Cleveland Clinic. Dr. Wolfson received his D.O. degree at the Chicago College of Osteopathic Medicine. He went on to a three year internal medicine residency and then a three year cardiology fellowship at Lutheran General Hospital in Park Ridge, IL, serving as Chief Fellow in his final year. From 2002 to 2012, he was with a large multi-specialty cardiovascular group. Dr. Wolfson served as the Chairman of the Department of Medicine at Paradise Valley Hospital and also as the Director of Cardiac Rehabilitation.

While Dr. Wolfson's practice continued to grow and expand, he become frustrated that despite all the pharmaceuticals and procedures, many patients were feeling worse. "Patients were discharged from the hospital only to shortly return to the ER because doctors are not healing anyone," says Dr. Wolfson. "The realization hit me that medical doctors were not preventing disease but only attempting to treat symptoms."

In 2004, Dr. Wolfson met Heather (now his wife), a chiropractor with a heavy focus on nutrition and healthy, chemical free living. Since then he changed his medical practice style, switching from the sickness paradigm to one of health and wellness.

After extensive research and discussion with chiropractors, homeopaths, naturopaths and other healers, Dr. Wolfson immersed himself in the natural lifestyle and reaped the rewards of great health. Now in his Wolfson Integrative Cardiology practice in Phoenix, AZ, Jack's motto with every patient he sees is: "The CAUSE is the CURE." But the best part has been that Dr. Wolfson is seeing a huge improvement in medical conditions by nutritional therapy and informed knowledge.