Hiatal Hernia Syndrome | Dr Steven Sandberg Lewis
June 22, 2020 @ 8:00 pm

-

9:00 pm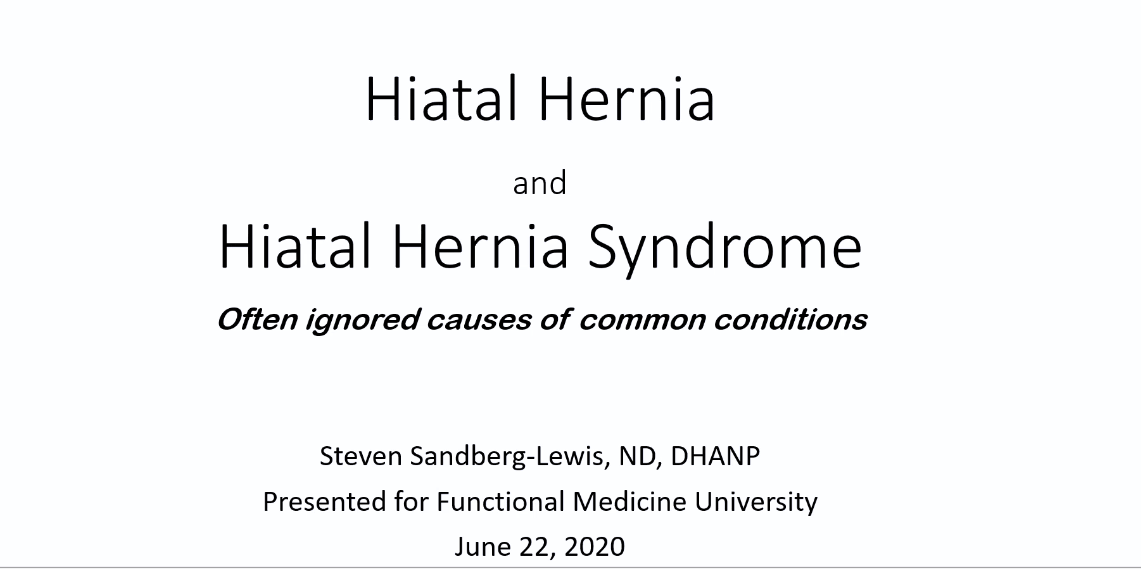 Hiatal Hernia Syndrome
Speaker: Steven Sandberg-Lewis, ND, DHANP
Sliding hiatal hernia is found in up to 40% of Americans (all ages) and even higher in those over age 70. This ability of the gastric cardia to ascend several centimeters into the mediastinum contributes to or triggers multiple symptoms. Some of these include anxiety, nausea, epigastric distress, poor appetite, reflux and even cardiac arrhythmias.
Reflex points and applied kinesiology can be used to test for the hiatal hernia syndrome in office. Manual medicine is often highly effective for rapidly reducing or eliminating the symptoms. After exercises and healthy breathing habits can prevent recurrence.
This webinar will show the diagnostic imaging and in-office testing that will allow you to successfully resolve this extremely common condition.
Learning Objectives:
1) The participants will understand the common etiology, incidence and testing for hiatal hernia syndrome.
2) The participants will learn manual medicine protocols for gentle and effective hiatal hernia syndrome resolution.
3) The participants will appreciate the importance of muscular tone and breathing habits for the prevention of hiatal hernia syndrome..
Date: Monday, June 22nd, 2020
Time: 8:00 PM – 9:00 PM (Eastern Time-New York Time
*this was an excellent and very practical lecture involving a simple correction that can have profound life changing impact for some people.
Steven Sandberg-Lewis, ND, DHANP's Bio:
Dr. Steven Sandberg-Lewis has been a practicing naturopathic physician for over forty years. He has a private practice in Portland, Oregon and is a professor at the National University of Natural Medicine. His area of specialty is Naturopathic gastroenterology. Conditions of special interest include inflammatory bowel disease, irritable bowel syndrome, hiatal hernia, small intestine bacterial overgrowth, gastroesophageal and bile reflux, biliary dyskinesia, and chronic nausea/vomiting.
Some special techniques used include clearing of unresolved emotional states– emotional freedom technique and eye movement clearing – as well as musculoskeletal assessment and soft tissue techniques – applied kinesiology, structural integration and visceral manipulation.
SS-L lectures extensively on digestive health and disease, writes a monthly functional gastroenterology column for the Townsend Letter, is the author of a second edition of Functional Gastroenterology: Assessing and Addressing the Causes of Functional Gastrointestinal Diseases(available at amazon.com) and is featured in numerous podcasts, digestive interview series and webinars.
Dr. Sandberg-Lewis lives in Portland with his spouse of forty years, Kayle. His interests include mandolin, guitar and voice; walking and biking; writing and lecturing.
Calendar powered by The Events Calendar