Hormone Balance & Menopause with Izzy Kirby
March 24, 2021 @ 7:00 pm

-

8:30 pm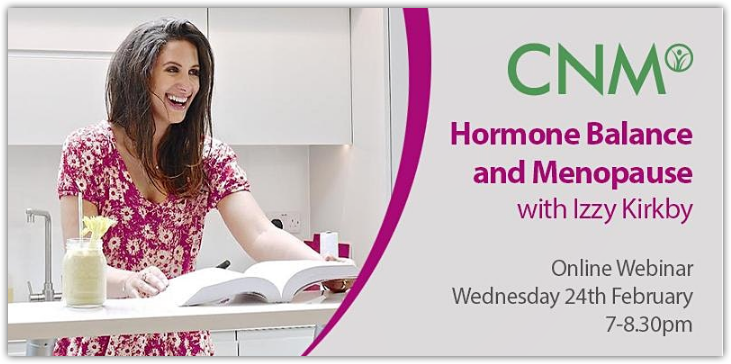 Women's Health: Hormone Balance and Menopause
CNM London UK, Online Health Talk Wednesday, 24th February 2021 7pm – 8:30pm, [also March 24th]  London Time
The menopause is a rite of passage for every woman. However, conventional medicine views it as a problem to treat with medication, rather than as a life process we need to nurture and honour.
This talk discusses natural ways to make the menopause manageable without resorting to artificial hormones.
Discussing the dietary and lifestyle changes that have been shown to improve health in menopausal women, as well as specific supplements and herbs which can support menopausal challenges.
This talk will cover:
• The Whats and the Whys of the menopause

• Dietary and lifestyle advice for hormonal health

• Natural solutions for common menopause symptoms:

o Hot flushes

o Sleep disturbances

o Mood swings and memory loss

o Menstrual irregularities

o Vaginal & bladder symptoms

o Bone health
About the Speaker
Izzy Kirkby mANP, rGNC is a CNM graduate of Nutrition, Herbal Medicine and Naturopathy who specialises in women's health and hormones. Izzy found through her practise that many of her client's health issues were hormonal disruptions as a result of a modern diet and stressful lifestyle. She uses natural medicine to not just relieve the symptoms but also help women reconnect with the innate wisdom of their bodies.

The College of Naturopathic Medicine is the largest training provider in a range of natural therapies. Embark on a career where you can help people be healthier. Study online. 80% of our graduates are practising.
*First in a series of online talks for which I'll be offering free tickets with CNM London running through March, tickets free with the code c235451 These talks usually have a small fee.
The College of Naturopathic Medicine runs short and long courses as starting points with a solid base for those entering health as a career for example offering 2 and 3 year Level 5 diplomas in Nutrition which also include functional medicine labs, also Master Herbalist and Naturopathic diplomas accredited with the ANP and several other organisations. They also run Health Coach and Natural Chef courses as well as short workshops. There will be free tickets for a series of online talks and workshops through March eg Natural Chef on Fermentation and more on women's Health.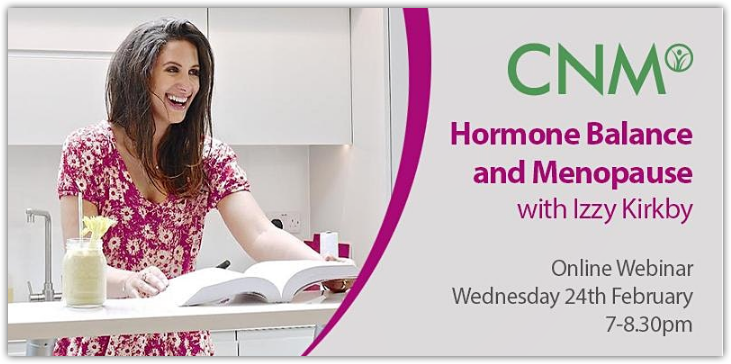 *Students of FMU will find in the student archives several lectures on hormones and menopause by different speakers using different modalities including one by a Master Herbalist who does not use bioidentical hormones, I haven't heard Izzy yet so look forward to comparing/contrasting.
Calendar powered by The Events Calendar