Mastering Functional Blood Chemistry | 6 Part Series
July 7, 2020 @ 8:00 pm

-

9:30 pm

Free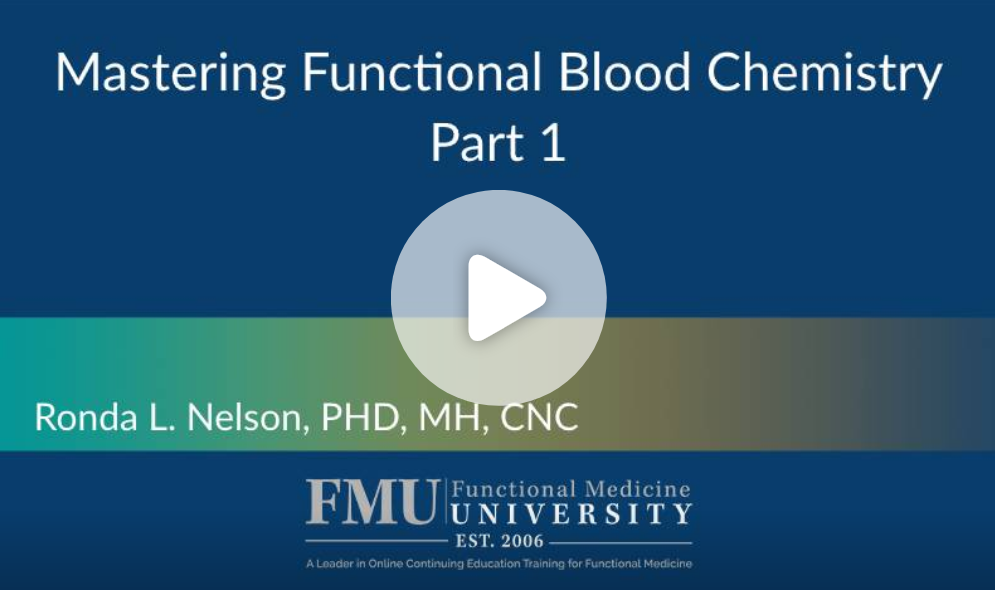 Mastering Functional Blood Chemistry- Part 1
Speaker: Ronda L. Nelson, PHD, MH, CNC
Webinar Description
Knowing how to accurately interpret blood labs is a skill that takes time to master. In this comprehensive 6-part series, Dr. Ronda Nelson explores over 70 of the most common blood markers, providing a comprehensive overview in a simple and easy to understand way. In addition to the more common panels such as the Lipid Panel, CBC and Metabolic Panel, Dr. Nelson guides you through a framework for extracting the most important information, allowing you to address key imbalances quickly and easily.

If you want to learn more about functional blood chemistry or are looking for a refresher course, this is six webinars you won't want to miss.
Dr. Ronda Nelson is a master at simplifying complex subjects, making them easy to understand and implement in clinical practice.
Objectives/outcomes:
Session 1
– Defining optimal lab ranges
– Reviewing common lab panels and markers
– Other markers to consider
– Red blood cell markers and interpretation
– Iron deficient anemia
Date: Tuesday, July 7th, 2020
Time: 8:00 PM – 9:30 PM (Eastern Time-New York Time)
Further sessions will include:
 Session 2  <—July 14th
– More iron markers
– Evaluating iron disorders
– Common anemia patterns
– B12, MMA and folate
– New values for vitamin D
Session3 <—July 28th
– Reviewing white blood cells
– Patterns for viral and bacterial infections
– Blood sugar markers
Session 4 <—August 4th
– Calcium, magnesium and phosphorus
– Evaluating protein status
– Assessing zinc status and alkaline phosphatase
Session 5 <—August 11th
– Essential electrolyte markers
– Investigating pH imbalances
– Evaluating renal function
– AST, ALT, and GGT distinctions
Session 6 <—August 18th
– Bilirubin and bile
– CRP, Homocysteine and Fibrinogen
– Understanding lipid markers
– TSH and the thyroid
*If you are a student at FMU and have missed any of these lectures remember they are in the student area along with transcripts uploaded after the event. Just log into FunctionalMedicineUniversity.com with your username and p/w.