Multiparasitism | Giardia, Dientamoeba, and Blastocystis
May 12, 2020 @ 8:00 pm

-

9:00 pm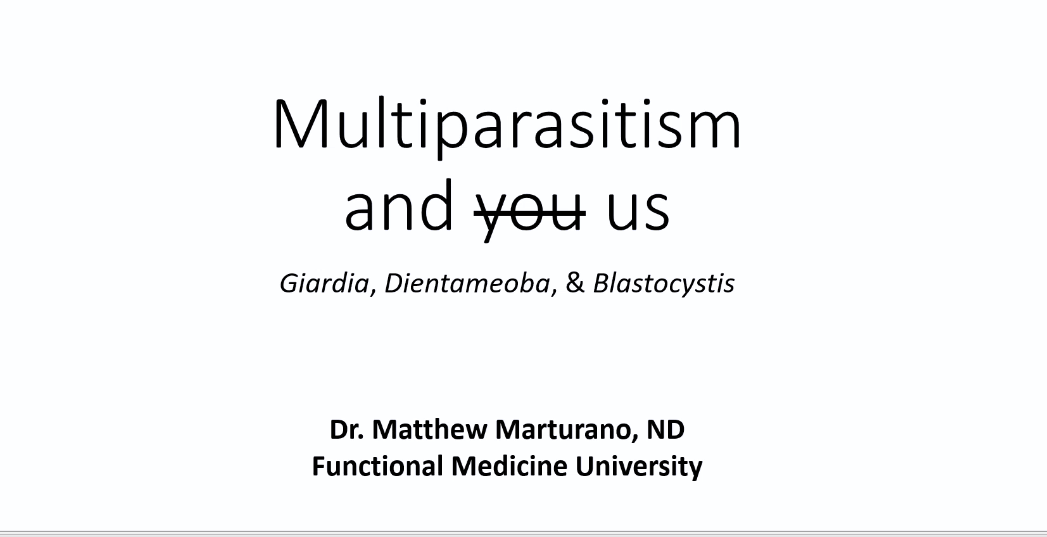 Multiparasitism: Giardia, Dientamoeba, and Blastocystis
Speaker: Matt Marturano N.D
Learning Objectives:
Basic classification of parasites.
 Conventional signs and symptoms of parasite infections.
Do parasites really cause diarrhea?
Could a parasite actually benefit the host?
What is multiparasitism?
A "quantum leap" from "me" to "we".
An ecological perspective of multiparasitism
Host manipulation: The Rabbit Hole
The Switcher-Paradigm
A path to autonomous self-governance
Ecological resource management
Don't test. Guess. (Yes, you read that right!)
A balanced diet by any other name… is a treatment plan.
"Go-to" anti-parasite supplements
What to avoid in treatment of multiparasitic infections
Date: Tuesday, May 12th, 2020
Time: 8:00 PM – 9:00 PM (Eastern Time-New York Time)
                             Dr. Matt Marturano's Bio:
Dr. Matt Marturano is a licensed naturopathic physician. His educational background includes a dual Bachelor of Science in Biology and Philosophy from the University of Michigan (1998) and a Doctorate of Naturopathic Medicine from the Southwest College of Naturopathic Medicine (2004). The naturopathic medicine program he attended is a four-year nationally-accredited program with supervised clinical training.
Dr. Matt owns and operates Natural Solutions for Digestive Health in Rochester Hills, Michigan. His naturopathic practice offers a holistic apdeproach to digestive health symptoms. In addition, Dr. Marturano currently serves on the Board of Directors for the Michigan Association of Naturopathic Physicians and is the Director of Sourcing and Strategic Development for Orchid Holistic Search, a permanent placement recruitment firm dedicated to the natural products industry.
Calendar powered by The Events Calendar