Strategies for Applying Epigenetics in Your Practice: Proven Protocols for Clinical Success
March 24, 2020 @ 8:00 pm

-

9:00 pm

Free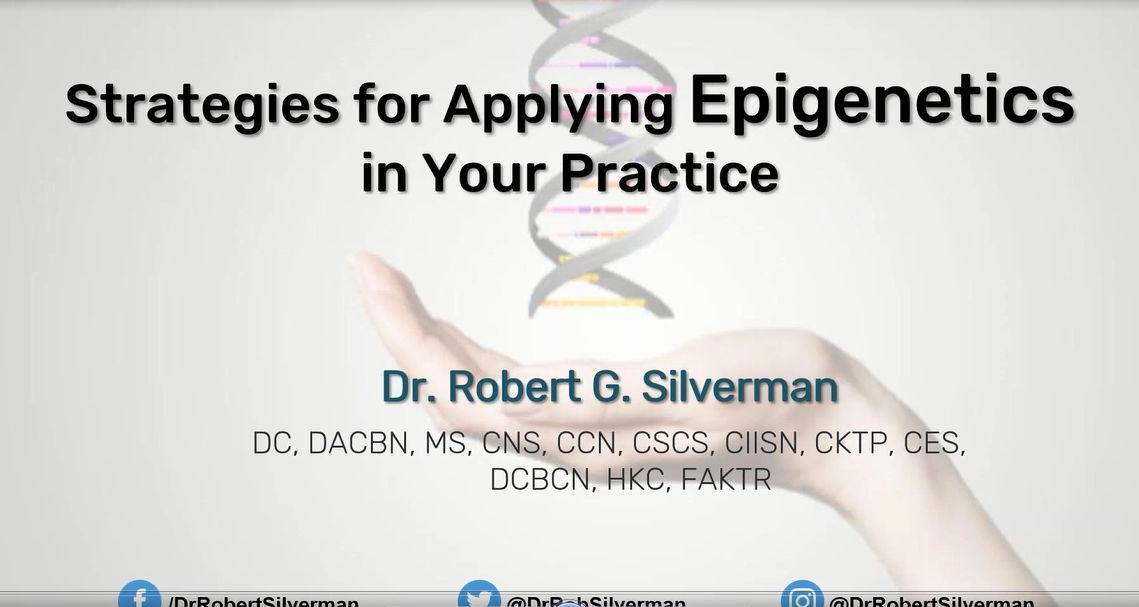 Strategies for Applying Epigenetics in Your Practice: Proven Protocols for Clinical Success
Speaker: Robert G. Silverman, DC, DACBN, DCBCN, MS, CCN, CNS, CSCS, CIISN, CKTP, CES, HKC, SASTM
Epigenetics has burst onto the scene as an essential area for practitioners to understand, yet savvy practitioners are struggling to understand the role epigenetics play in their patient's health. Epigenetics explains how a gene's expression changes through the interaction with environmental surroundings. These surroundings" include smoking, mismatched diets, air pollution, stress, lack of sleep, and more. Join Dr. Rob Silverman as he breaks down th e different genetic panels and explores the role epigenetics plays
in activating key SNPs. Implementing and understanding epigenetic protocols allow practitioners to truly personalize treatment plans easily and arrive at excellent outcomes faster: decreasing trial and error, thus saving the patient time and money.
After this presentation, clinicians will:
Understand the types of environmental inputs that affect their patients' DNA expression
Explain the role nutritional SNPs play in the epigenetic support of patients' DNA results
Receive detailed protocols enabling practitioners to begin Monday-morning implementation
Discover the synergistic role of DNA and serum tests
This webinar is exclusive and optional for all FMU Students
Date: Tuesday, March 24th, 2020
Time: 8:00 PM – 9:00 PM (Eastern Time-New York Time)
Time: 7:00 PM – 8:00 PM (Central Time-Tennessee Time)
Time: 6:00 PM – 7:00 PM (Mountain Time: Denver Time)
Time: 5:00 PM – 6:00 PM (Pacific Time- Los Angeles Time)
Time: 1:00 AM- 2:00 AM (London Time)– on March 25th, 2020
* After registering you will receive a confirmation email containing information  about joining the Webinar.
Dr. Silverman's Bio:
Dr. Robert Silverman is a chiropractic doctor, clinical nutritionist, national/international speaker, author of Amazon's #1 bestseller "Inside-Out Health",founder and CEO of Westchester Integrative Health Ctr. The ACA Sports Council named Dr. Silverman "Sports Chiropractor of the Year" in 2015.His extensive list of educational accomplishments
includes six different degrees in clinical nutrition.
Dr. Silverman is on the advisory board for the Functional Medicine University and is a seasoned health and wellness expert on both the speaking circuits and within the media,
as well as a frequent health expert contributor on national blogs such as Consumer Health Digest. He has appeared on FOX News Channel, FOX, NBC, CBS, ABC, The Wall
Street Journal, NewsMax.He was invited as a guest speaker on "Talks at Google" to discuss his current book. A frequ ent published author in peer-reviewed journals and other mainstream publications, Dr. Silverman is a thought leader in his field and practice.
Dr. Silverman was the principle investigator on a Level 1 laser FDA study.
His new book, Superhighway to Health is expected to be published in early 2020