The Natural Chef Fermentation & Drying Workshop
March 16, 2021 @ 6:00 pm

-

7:00 pm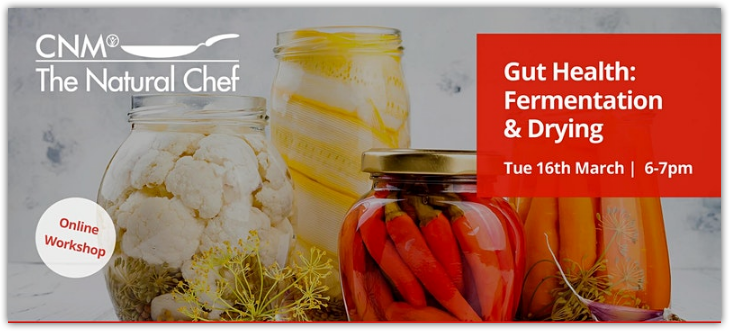 Gut Health: Fermentation & Drying
CNM Online Workshop Tuesday March 16th 6-7pm UTC
Event is free with code c235451  
About this Event
Course Director Rachel De Thample will show you 4 tips to enhance your food at home using some of the world's most ancient preserving techniques including Drying and Fermentation.

In this 45 minute workshop, you will get a snapshot into the CNM Natural Chef and Vegan Natural Chef courses where you will learn some of the basic skills required for the courses.

1. Homemade Vegetable Stock Powder

Instead of buying this pre-made, Rachel will show you how easy it is to use up your vegetables to make a healthy and delicious stock that you can add to enhance any broth, soup or stew.

2. Dried Mushrooms

Often sold as a luxury item in health food stores, this super simple immune-boosting technique will not only add flavour to your dishes but won't break the bank.

3. Classic Sauerkraut

Sauerkraut is at the height of popularity right now due to its gut-friendly properties, but did you know how simple it is to make? Learn how with CNM Natural Chef.

4. Fermented Jam

Use up any seasonal fruit you having lying around with this interesting and simple tip for a refined-sugar-free, fermented Jam using only two ingredients.
Sign up today to gain a snapshot into the courses and who knows, it could set you on your very own path to becoming a Natural Chef.