Treating Alzheimer's Disease with Natural Products
March 10, 2020 @ 8:00 pm

-

9:00 pm

Free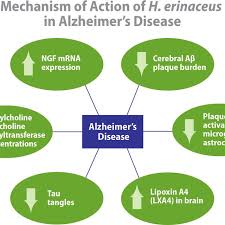 Treating Alzheimer's Disease with Natural Products
Speaker: Kevin Spelman PhD, MCPP
Alzheimer's Disease (AD) is ravaging our personal, community and societal well-being with an estimate of up to 80 million cases by 2040. Considering the overwhelming consequences and costs of such a pandemic, there is little to offer in effective drug treatments. Over 150 new drug trials for treating AD that have been done in the past 2 decades have failed. Medicinal plants have a long tradition as neurotrophic and cognitive function, thus, plant extracts have a lways been used for AD. A few plants rise above the rest due to positive clinical trial results in cognitive function. We will review known targets and clinical application of the most successful medicinal plants in this presentation.

Kevin Spelman PhD, MCPP Bio:

Dr. Spelman is a research scientist, has two decades of clinical experience and is recognized as an international expert in the molecular biology and pharmacology of medicinal plant therapies. Past clinical rotations include an HIV clinical rotation with Dr. Greg Strebel, one of the first clinicians to use the cocktail therapy in AIDS, an HIV rotation with Dr. Kären Van der Veer, a cancer rotation with Dr. Ken Proefrock and a one year rotation working with the health issues of an indigent population at the New Mexico Herb Institute,. He then went on to practice clinical phytotherapy for 20 years, collaborating with MDs, PAs and FNPs in a group setting. Dr. Spelman was also founder and president of the Clinical of Collaborative Medicine in Albuquerque, NM. In addition, he was one of the first phytotherapists to be included in a PPO through an innovative program designed to provide access to CAM  therapies in the late 1990s. During these years he was awarded the People's Caring Award by People Living Through Cancer for recognition of distinguished clinical service. International clinical work has included the analysis of nutrient levels in teenage women in West Africa and working with children with neurological disorders in Central America.

He is a member of the prestigious College of Practitioners of Phytotherapy in the UK. Most recently, Dr. Spelman has followed patients using Cannabis oil for late stage cancers as well as performed cannabinoid research at National Institutes of Health.

As a research scientist, Dr. Spelman was the first researcher to demonstrate cannabinoid ligands in Zanthoxylum spp. In addition, he researched the molecular mechanisms of glioblastoma multiforme as well as ovarian cancer while at NIH. Dr. Spelman is also a past Marie Curie research fellow in the European Union where he identified the antimalarial activity of two separate species of medicinal plants.

He is the previous Clinical Chair for Maryland University of Integrated Health Clinical Herbal Medicine program where he was awarded the Great Esteem Award by the Maryland University of Integrative Health for excellence in clinical education by two different departments over 5 years. He was previously on faculty at Massachusetts College of Pharmacy and National College of Naturopathic Medicine. He has also served as adjunct professor at the Southwest College of Naturopathic Medicine, the National University of Naturopathic Medicine and Bastyr University of Health Sciences in the Pharmacy, Botanical Medicine Departments and the Research Departments.

Dr. Spelman has lectured at several other colleges and medical schools including, Johns Hopkins and Georgetown. Over the last decade he has provided CMEs for physicians in cannabinoid therapeutics through several venues in multiple states.

Dr. Spelman's industry experience includes Principal Scientist, for the biggest producer of liquid herbal extracts in the United States, where he researched cultivation techniques as well as directing the chemical analysis of over 300 different medicinal plants. In this capacity he was responsible for the quality assurance and quality control of these plants and their subsequent products. After a move to the Salt Lake City he
became Executive Vice Presiden t of R&D for a billion-dollar company with products in 23 countries.

His most recent corporate experience was as Chief Scientific Officer and formulator of an international CBD company. Dr. Spelman has been quite active as a consultant for the Natural Products Industry including lobbying the US Senate & House for public access to CBD, access to multivitamins for the underserved and further resources for the FDA to enforce GMPs.

He was also invited to the White House for the rollout of the National Microbiome Initiative and advised the White Commission on Complementary and Alternative Medicine during the Clinton years as well as provided expert testimony before the Maryland House of Delegates and Senate. As a Formulator he has 5 CBD products in the market and has products he co-formulated in use by 30 professional sports teams and military special forces.
Calendar powered by The Events Calendar