FMU Fall Enrollment
October 21, 2018

-

October 28, 2018

$2195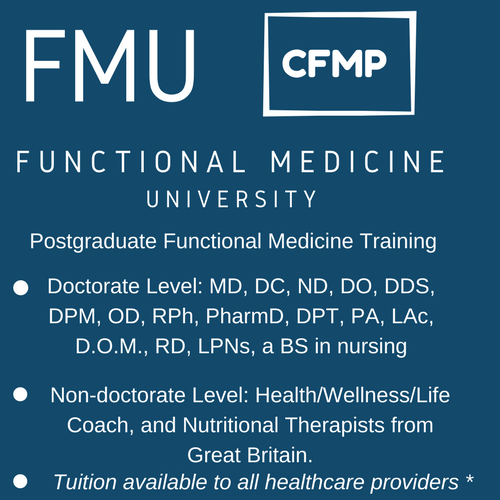 FMU Fall Enrollment for CFMP training Oct 22nd-28th
The CFMP Certified Functional Medicine Practitioner course enrollment week Oct 21st- Oct 28th, 11pm Eastern Time. Enrollment at FMU is quarterly. Training is entirely online and prices start at $2195 for students and non-physicians to approx 2495 for physicians. There is a 30 day trial period to try the course and the opportunity to cancel within 30 days. I also offer a $250 cashback on tuition fees for those who choose to do the course, i.e. for those who register exclusively through the registration link provided on this site. Check out the Functional Medicine University CFMP syllabus, Guest Lecture archive and free sample videos below, but make sure to come back and use the $250 voucher / registration link on this site to get cookied into that $250 cashback!
Two sample FMU Guest Lecture Series videos open during enrollment week for you to view:
Whereas other training centers demand ongoing membership fees per month or per lecture in keeping you up to date with education and trends in functional medicine, but at FMU your initial tuition fee means you are a member for life with no further fees for continuing education.
 Dr. Robert Silverman on recovering the brain after concussion and injury. It is one of the best lectures I've ever heard, not only does he list out all the food and lifestyle factors that reduce inflammation in the brain but he says precisely why turmeric works, precisely why any of the popular supplements work. He describes the cascade of events that occur after concussion and how they hit all body systems. And he reveals his protocols both nutritional and physical for recovery that he uses in his own practice where at least 40% of his clients are brain trauma or concussion.
He shows a long list of things that increase BDNF, the ketone BHB is just ONE of those, turmeric and exercise are two more – so the ketogenic diet is NEVER necessary!
2. The second video open right now is by Mary Kay Ross on the Bredesen Protocol – they are claiming it is 'the' functional approach to reversing cognitive decline but I know there are other approaches more effective. Bredesen is a supplement heavy protocol involving the ketogenic diet and intermittent fasting and they are promoting it as 'the only' way to reverse Alzheimer's – however – if you've heard Patrick Holford on the Healing Power of Food summit you'll hear there is more than one way to reverse Alzheimer's, and keto is never necessary. I've halted and reversed rapid cognitive decline myself back in 2004/5 using high dose EPA and without utilizing keto, instead the total opposite – high dose juice therapy, real foods and lots of it on Gerson Therapy, and high dose EPA. Also there is an ALS group going against keto and using AAKG and real food, the Deanna Protocol. And we're hearing from Patrick Holford about even more ways involving B vitamins.
---
The Truth About Keto and Disagreeing over ways to REVERSE the 'irreversible'!
In fact there's a long list of voices now shouting out how dangerous keto is and how irresponsible it is to promote it. I know the supplements recommended by Ross here are sort of swept under the mat into her last 3 slides but I've heard her expound on them for an hour at the Awakening from Alzheimer's summit and they are not the right or best things or supplements to be taking at all – some of them the wrong form, some of them the wrong dose, some things missing – so it's a testament to the power of the body to heal when you give it a fraction of what it needs and clear out the junk. However I would not force people to take on a ridiculously expensive protocol and burdensome fad diet for the rest of their lives when there are better options.
But notice that even though I vigorously disagree with Ross and Bredesen, in the end we are arguing about different ways to reverse Alzheimer's and cognitive decline / dementia, whereas in general society and orthodox medicine they have no way to reverse these things and over 80 million dollars a year goes into researching and failure.
So this is an example of the mix of speakers you'll get at FMU – all the latest, the good, the bad and in my opinion the downright ugly. You can decide who you want to follow.
Here is a further list of sample speakers, there's actually a large archive available to students, and all way more detailed than the standards you hear to the general public at summits.
---
There's no such thing as 'board certified CFMP'
*This certification is the exact same CFMP issued by the IFM but at a fraction of the price because it is entirely online and the goal is to make the education available and accessible and affordable to everyone, wherever they live and whatever their budget.
There's a lot of confusion at the moment regarding functional medication certifications and who the certifying body is, or if indeed there is any official certifying body eg many pop-up inhouse training courses have become available which carry the strong bias of the celebrity 'founder', most often made famous by digital marketing not necessarily merit or 'truth' or experience or academic achievement.
Funtional Medicine University state they are aligned with Southern California University of Health Sciences and a number of nationally recognized accreditation institutes.
Fully accredited Certified Functional Medicine Practitioner CFMP training for licensed professionals and accessible to all healthcare practitioners by a recognized leader in Functional Medicine.

CEUs and certificates of completion are provided by the Southern California University of Health Sciences.

CME category 1, BANT approval and ACBN diplomate hours free with the course
Always check where your cert is coming from, is it merely an empty brand with no meat on it regarding what you learn, is it a narrow or biased fad here today gone tomorrow, or will you get a real education that fills your practitioner toolbox with options going forward for your future to help even the difficult cases.
---
Can you get access to labs on your current qualification?
AND check if your current qualification allows you to already access labs, that could be a dealbreaker for you. What do you need your cert for? Is it decoration, is it to open doors, is it to access labs, is it to learn something you may not get elsewhere?
All of these are valid depending on your situation. Many licensed professionals and some nutritional practitioners have access to labs on their current qualification, people who need access to labs must either get that through their current qualification, direct labs, or a course that grants them access to labs if they find they can't do that. One such course is the FDN course, which is one of the few courses that trains health coaches without previous qualifications and allows them access to some labs. If you need that option check out Functional Diagnostic Nutrition, they'll give you the first 3 lessons free and see if it is for you. It is not a CFMP.
---
Who is eligible for CFMP acceditation vs certificate of completion?
The CFMP at FMU is open to anyone for enrollment but check with their customer support to see if you can call yourself a CFMP afterwards or if instead you will be recieving a certificate of completion, having taken the course for educational and not accreditation purposes – which actually I'm doing myself as I believe it to be the most educational and broadly diverse opinioned curriculum among all the training courses.
FMU support can be contacted directly at: www.FMUsupport.com
Phone: USA 1-877-328-4035
Feel free to contact me if you have any questions regarding being a student at FMU: contact@functionalmedicinetraining.org
---
Payment Plans
**There are also payment plans which work out at about $200 a month, and this site offers you a $250 cashback voucher on your fees after the 30 day trial period for people who register through this site and stay beyond the trial period. You must use the link from this site to get the cashback.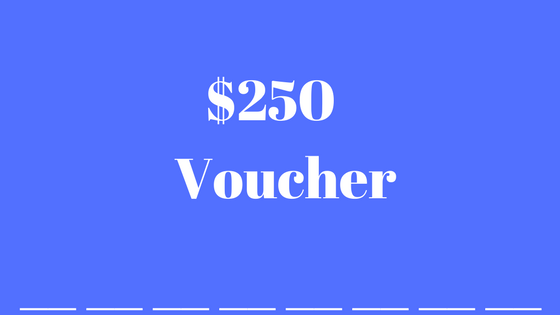 *This voucher is live now during enrollment week, Oct 21st-28th 11pm Eastern Time, to receive the cashback you must register through this link from this site functionalmedicinetraining.org
---
National and International Accreditation
Fully accredited Certified Functional Medicine Practitioner CFMP training for licensed professionals and accessible to all healthcare practitioners by a recognized leader in Functional Medicine.
CEUs and certificates of completion are provided by the Southern California University of Health Sciences.
CME category 1, BANT approval and ACBN diplomate hours free with the course


---

Check out the Certified Functional Medicine Practitioner syllabus and the Guest Lecture Series.